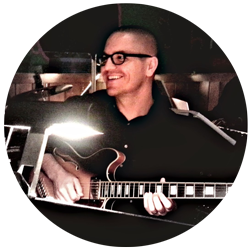 Creating digital experiences to meet business and customer goals.
After completing my B.A. in Music (Classical Guitar) I performed in and around Tulsa, Oklahoma and taught guitar at my alma mater. As much as I loved music, I was never content to be just a musician. I was more interested in the craft of music and the overall experience of live performances (lighting, audio, video, and production).
One of my jobs required me to maintain a company website using a CMS. It was very frustrating and I spent a lot of time tinkering with it but could never break free of the templates and WYSIWYG editors. I knew that if I could break that digital wall, I could make it much better. That experience lead me to pursue web development and digital design. In October of 2016, I began a 13-week intensive code bootcamp and immediately after graduating from that program, I began my career as a web designer at Fulcrum.
Fulcrum is a growing company with a solid track record of innovation. As one of 3 designers currently on staff, I have been able to work on a broad range of design challenges including:
building, implementing, and maintaining a design system
designing complex features such as workflow automation using conditional logic
contributing to a large and complex web application
ongoing user research focused on trial conversions
working with outside consultants
improving onboarding experiences for mobile and web platforms
UI redesign of Android and iOS mobile applications
Figma has become my primary design tool and I regularly participate in the Tampa Bay Figma group. Although most of my time and effort is spent on polishing my design skills and tools, I really enjoy hacking on software projects on the weekends. I'm nearly as passionate about my mechanical keyboard and Vim config as I am about my Wacom tablet and iPad.
I look forward to solving complex problems with design thinking and creating digital experiences to meet the needs of Fulcrum's customers.
What are you working on? I'd love to hear about it and possibly even help if I can. Contact me and let's talk.